Wedding Lighting Hire & Design
info@elementict.com.au | (02) 9477 3757
---
Enhance your wedding venue with light & custom decorative elements to create beautiful romantic ambience
---
---
When lighting is used correctly, it takes a venue to the next level, and our wide range of lighting will ensure that your venue quite literally glows with subtle ambience.
We can assist you with every element of your wedding event lighting requirements, through colour washing a venue inside, creation of beautiful backdrops using fairy light curtains, festoon lights and accent lights to providing effect and general venue lighting if you've booked a band or DJ for your evening celebrations.
---
Benefit from our experience
With experience in designing and proving lighting for a huge range of venues, from marquees to hotels, rustic country settings through to historic buildings, our team is able to provide advice and the right lighting product to make your vision come alive.
We've installed lighting in some of Sydney's most popular wedding venues and our pre-existing knowledge of these venues allows us to provide you with an accurate an competitive quote with the minimum of fuss.
With a licensed rigger as part of our team, we can create more complex installations and structures allowing us to achieve some complex and unique but at the same time both beautiful and subtle lighting effects.
Leave the planning & co-ordination to us
We liaise directly with the venue to organise site visits as required and to coordinate bump-in, set-up schedule, bump-out and to ensure compliance with insurance, rigging licenses (if applicable) and also any COVID-19 related requirements or restrictions.
If you have a specific style or design in mind the chances are that we can accurately and fully recreate this so we're happy to work from sketches, photos, colour swatches or any design you may have in mind.
Indoors, outdoors or both!
Our products include both indoor and outdoor capable lighting units, so we can light the approach to a venue, building facades, gardens and features.
With professional quality wireless controlled rechargeable lighting products in our hire inventory, lighting units can be installed without the fuss and aesthetic issues of cables, and are able to be discretely positioned to light columns, interior features, displays, flowers and more.
We can work with your existing design and event team, liaise with your venue or even assist with every element of your wedding lighting and sound requirements and we also offer full event management and MC services.
---
Popular wedding lighting items include our:
Festoon lights with retro / vintage globes in 'warm white' colour tones
Festoon 'droppers' which allow individual globes to be hung down from a main strand of festoons to create lighting over tables or specific areas of interest
Fairy light backdrops / curtains which feature 600 warm white globes on a 6x3 metre backdrop  per evening  (our tip is to double-up to increase the lighting density and create a beautiful curtain of light - works brilliantly behind a semi-transparent curtain such as chiffon or similar)
Chiffon curtains which work wonderfully with our fairy light curtains
Frames / pipe and drape / truss systems, ideal for safe and secure hanging of drapes and backdrops. With our full size truss systems, we can create runs up to 20 metres in length, ideal for creating full drape walls in larger venues
High quality low output fairy lights
Multi-couloured festoons
External weatherproof venue wash lights
Internal portable long duration battery powered washes with wireless control
Accent lights and spots
Effects lighting
---
Call us on (02) 9477 3757 to discuss your wedding lighting requirements in further detail, or contact us to request further details or a free no obligation quote and availability for specific hire items.
---
---
---
Wash lights and festoons create a beautiful ambience
---
Spots and accent lights can be employed to focus light on specific items
---
Consider delicate fairy light backdrops with a range of drapes for top tables
---
We also provide decorative and sculptural elements such as this custom-designed mirror ball structure
---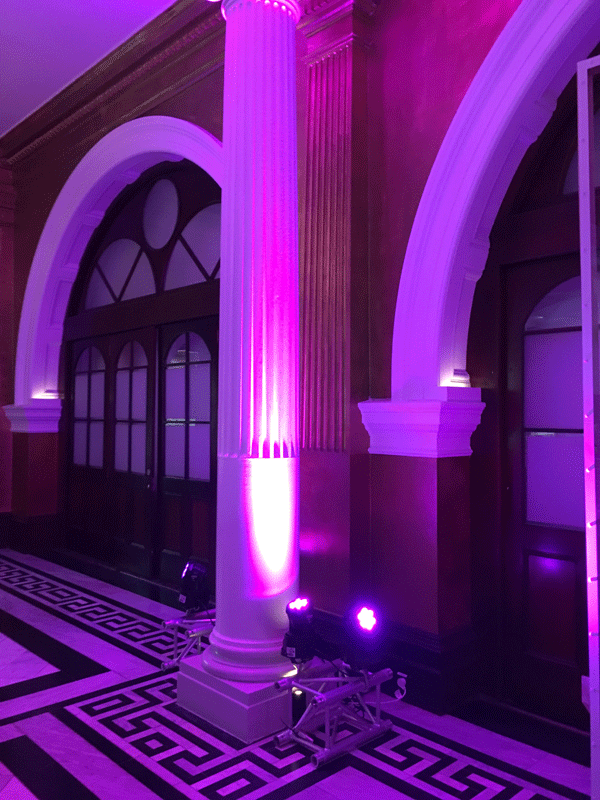 Small but powerful wash lights are ideal for highlighting building or interior features
---