Disco ball / Mirror ball hire
Disco Ball / Mirror Ball Hire
info@elementict.com.au | (02) 9477 3757
---
Hire from our huge range of disco balls / mirror balls, motors and lighting for you next event.
Add some retro disco bling with our large range of mirror balls from 8" through to an enormous 40" (that's 100cm) diameter!
Or for a different 'spin' on the classic mirror ball installation, why not try one of our awesome mirror ball sculptures?
As a leading Sydney based hire supplier of disco balls / mirror balls, our products have made their way to some high profile events and wowed the audience with the classic disco ball effect scaled up to super-size with our largest units.
We only supply high quality, well constructed, safe and well maintained products and can supply from our inventory a large range of disco / mirror balls with sizes ranging from 8" to 40" diameter and professional models with smaller 5mm mirrors for the ultimate effect.
We have over 60 mirror balls in stock including 6 100cm (40") diameter balls and 6 75cm (30") diameter balls which are suitable for even the largest concert or exhibition venues and fully compatible with industry standard truss mounting systems.
All of our larger professional balls feature reinforced mountings and additional safety couplings and are fully compatible with our range of mirror ball motors.
Couple these with our range of pin spots and beam light sources and you're ready to recreate the ultimate retro disco effect!
---
---
---
If you're looking form something even more original, light your disco / mirror ball with one of our moving head spots and by selecting a different gobo and colour, you can dramatically change the effect. For example, you can use a split colour and a rotating gobo split with a prism for the ultimate color changing rotating mid-air effect!
Add a smoke machine, or better still, one of our hazers and you can really bring your event and venue alive.
We hire a range of:
8 inch / 20cm to 40 inch / 100cm mirror balls
Over 35 mirror balls in stock
16 inch professional mirror balls with smaller 5mm mirrors
Moving head spots for long-distance disco / mirror ball illumination
Mains powered pin spots
Battery powered pin spots
Stands, trussing and mounting hardware
Hire on-line from our mirror-ball section of our hire-shop or contact us today on (02) 9477 3757 to discuss your requirements and arrange a quote, or hire on-line here!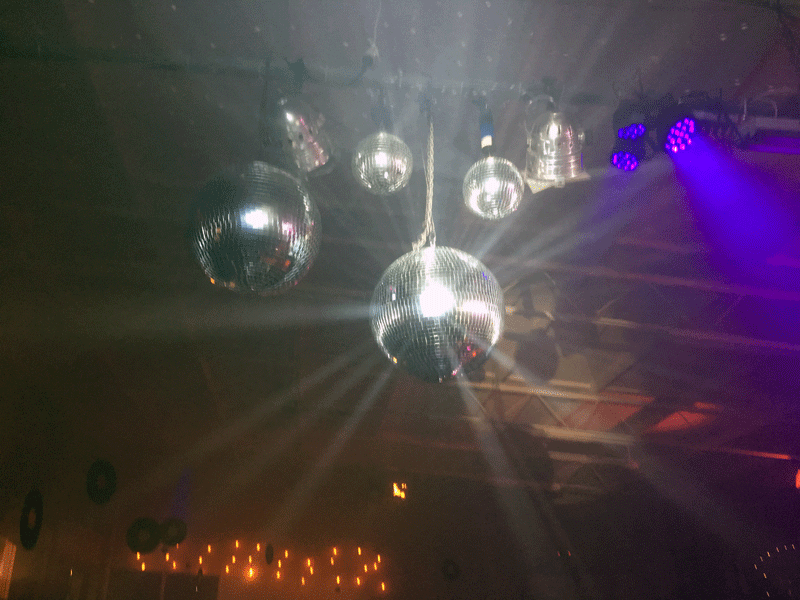 ---