Truss Hire, Design & Installation
info@elementict.com.au | (02) 9477 3757
Lighting, Stage, Entertainment, Event and Exhibition Truss Hire & Installation
---
Design, delivery and build / set-up services also available including full turnkey installations in venues, theatres, circus schools, auditoriums & more!
---
Serving Sydney and Central Coast areas - and further afield by request - we have a wide range of trussing for hire on daily, weekly or longer terms, with industry-standard 290mm and high strength box truss available including load rated / certified, i.e. TUV, options.
---
Our Truss hire catalogue & base pricing
We stock a wide range of quality truss sections and components in our Sydney North Shore Warehouse and offer complete solutions for dry-hire, temporary or permanent installation.
Our inventory includes:
Truss sections (including F34, F34P and F44P and F45P Global Truss)

Full truss ground support systems

Large local inventory of 290mm box truss lengths including 0.29m, 0.4m, 0.5m, 0.75m, 1m, 1.5m 2m, 2.5m, 3m, 3.5m and 4m

Wide range of 400mm box truss lengths including 1m, 2m, 2.5m, 3.5m and 4,m sections

High strength Global Truss 'P' composition sections available

Truss podiums from 1m to 3.5m height

Most items carrying TUV or Australian Industry certification

Load specifications available on request

Base plates and top plates

GT F34 and GT F44 6 way cubes

2, 3 and 4 way corners 

Mounts & adapters including braces, jacking feet, load distribution pads, swivel couplers, single tube sections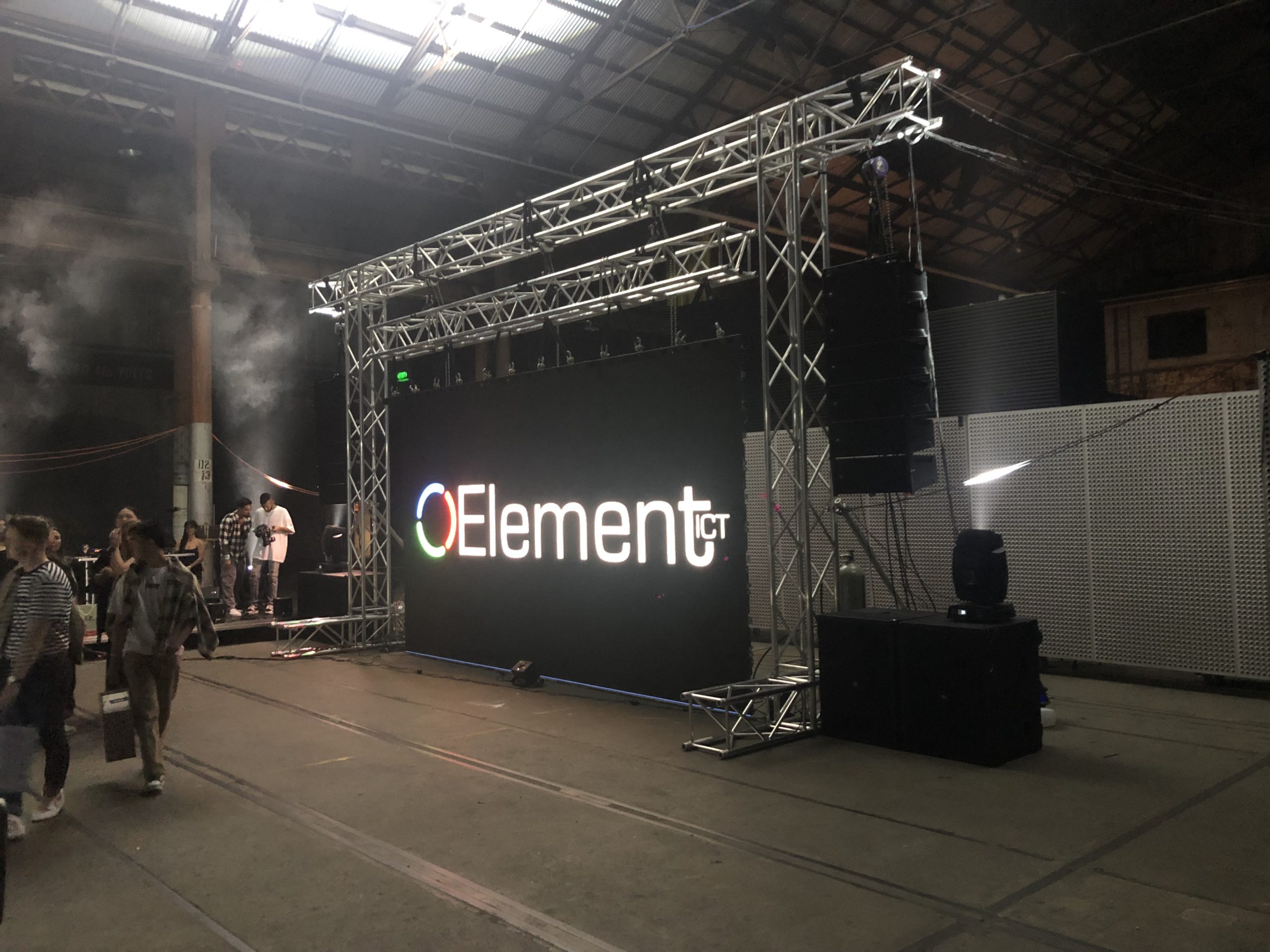 LED Screen & Line Array Speaker truss
---
Licensed rigger available & fully insured for your peace of mind
---
For larger builds we can also assist with certified truss rigging experts and our in-house team also now includes a licensed dogman (HRW DG) and rigger (HRW RB), also holding an EWPA ticket, who is able to assist with larger builds where crane services, suspension or permanent installs may be required and where the use of scissor or boom lifts may also be necessary.
The majority of our team also hold current white cards which allow us to install truss on live construction sites .
We also hold a $20M public liability policy which contains specific coverage for on-site rigging services
Trussing can provide a huge array of lighting, sound, speaker, banner, screen or product mounting options for instance:
Exhibitions and trade shows

Product launches

Fundraisers and gala events

Concerts and band events

Creation of high-profile start and finish lines when used in goalpost configuration - great for running events, cycling events, triathlons and medium temporary spans across racetracks

Temporary rigging requirements

Temporary mountings for large scale LED or projection screens
(Scroll down for hire pricing and options) 
Trussing is a hugely flexible temporary mounting option for screens, lighting, A/V equipment and more. 
Most importantly, truss structures are limited more or less by your imagination. As structures grow in size however, there  will be load and construction considerations, and this is where using rated truss becomes important in order that safe loadings and deflections are understood to ensure safety.
Hire our truss sections and accessories to create:
Lighting goalposts

Lighting towers

Mounts for large projector screens or LED display panels

Towers for small speaker line arrays

Podiums for lighting or products (great for product launches - warm the truss with washes for greater impact)

Truss cubes to form a super-strong pop-up or temporary exhibition structure to which you can mount speakers, screens, lighting, banners, products etc.
Your hire options:
We can assist with daily, weekly and longer term hire options for our 290mm box truss components.
Our range includes various 290mm box truss lengths (AKA "sticks"), corners, base and top plates which can be combined in an almost endless set of configurations.
Light it up!
Trussing can also be "warmed" with lighting to add some extra pizzaz to the setup. We can also supply a wide range of suitable lighting including high-power LED par-cans, LED strips, and moving heads. Click here to explore our lighting options.
Our location and delivery / collection options:
We are conveniently located in Hornsby on the Upper North Shore and serve the Sydney metro and Central Coast areas - and further afield by request - for truss hire.
We offer collection and delivery options (additional fee applies) for your trussing requirements. We can also provide assembly for a small additional fee.
Get a quote or find out more:
Contact us to discuss your requirements in further detail or see below for hire pricing of our most popular items. Quotes can also be provided for larger configurations.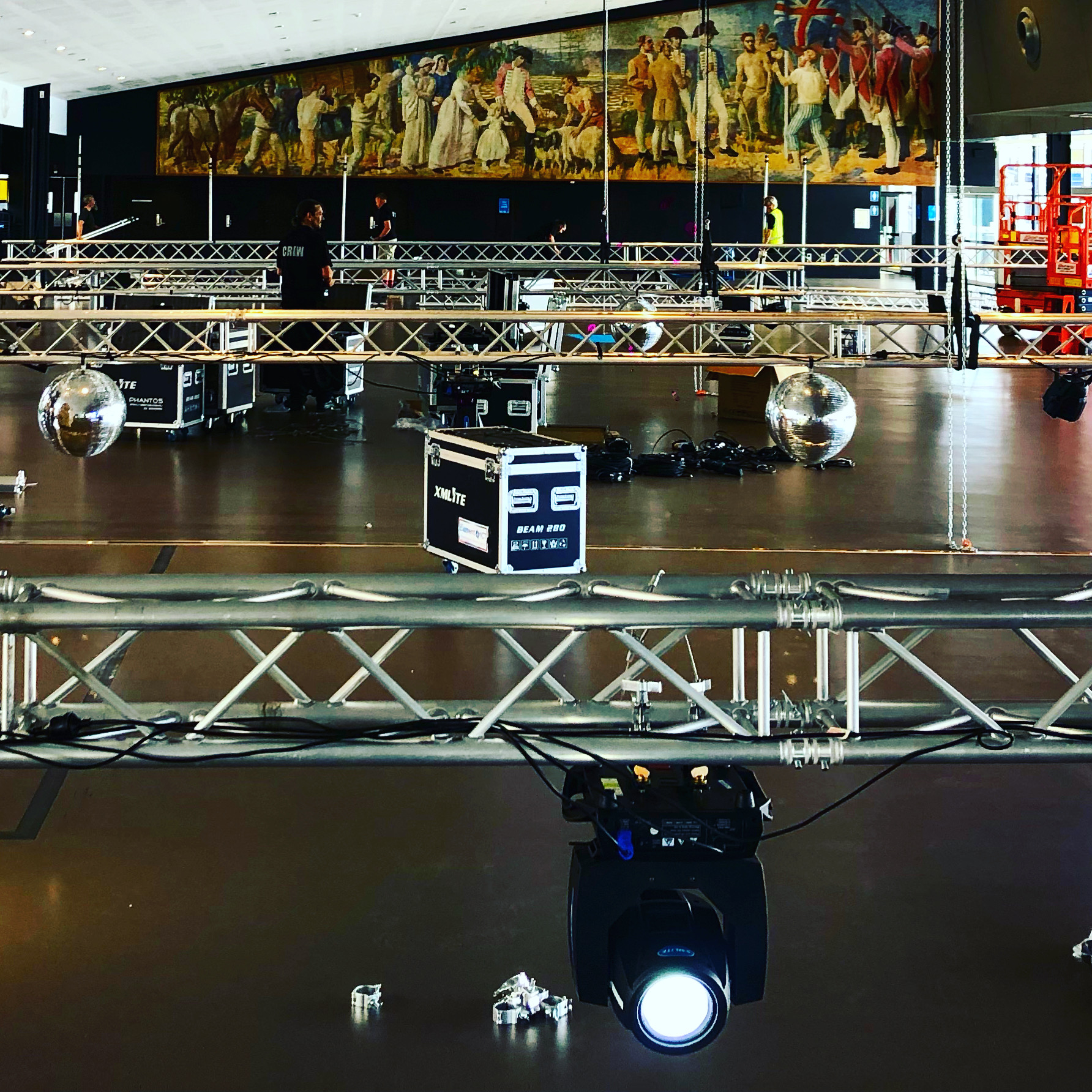 Truss based lighting rigs
---
8 metre tall, 6 metre wide stabilised acrobat / circus frame comprised of Global Truss F44 400mm sections. Similar structures can be designed to your exact specification and partially built on-site to save valuable bump-in time on the day of event.
---
Truss structures perfect for exhibitions, product launches, temporary spaces and displays
---
5.5 metre wide 3.5 metre tall truss entranceway / archway / goalpost system with ground stabilisers
---
2.5 x 2.5m truss archway / goalpost
---
---
Truss based mirror ball suspension systems
---
Truss lighting podiums. Varying heights from 0.5 to 3 metre available. Perfect for moving heads.